Our master bedroom could probably win an award for least glamorous master bedroom to have ever existed.  It's currently worse than normal because we have a newborn rooming in and along with her came an ugly changing table.  But even on a good day, our master bedroom is my least favorite room to be in.  It's just...blah.  In the world of priorities, this comes last.  Obviously.
I'm a little embarrassed to be putting this out there, but I'm just transparent enough to do it.  Plus I need help.  I'm not good at the design-y stuff and I need to do this
very
cheaply.  We don't have a line item in the budget for decorating which is the biggest reason our room looks like this to begin with.  I'm dedicating the next few months to redoing this room, though, and I need to get it done as cheaply as humanly possible.  So like
Adalyn's nursery
, most everything will need to be a DIY project.  And I'm
very, very, very
open to ideas here.  When we do have our room back to ourselves, I want it to be cozy and snuggly and romantic.  I want it to be a place I
enjoy being.
Okay, enough suspense, let's just get to the pictures, shall we?  These are horrible pictures because we have bad lighting in this room, especially in light of the fact that one window is covered with...a bed sheet.  Yeah, that's embarrassing.  Like I said, this room is our last priority.
Welcome to our (tiny) master bedroom: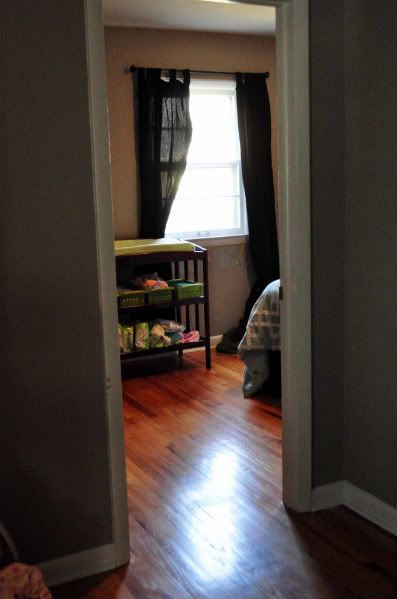 Take note of the ugly changing table, the basket full of cloth diapers, the super old & ugly fan, the space heater and a whole bunch of cords all crammed in one little corner of our tiny room.  Glamorous, no?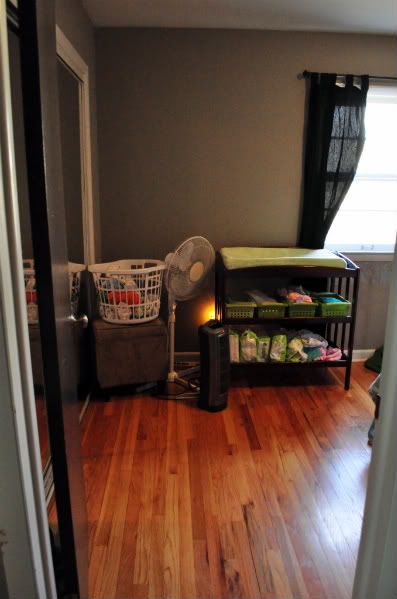 To our right, you'll find the bed sheet curtain (long story short is that when we switched rooms, we somehow lost the extra curtain rod for our other curtain and we haven't gotten around to buying a new one yet), our cheap Target dresser that has not fared well (in other words, the bottom of the dresser drawers are literally falling out), a whole bunch of junk on our dresser and a mismatched bed set (in my defense, it normally isn't so bad but our matching duvet is in the dryer):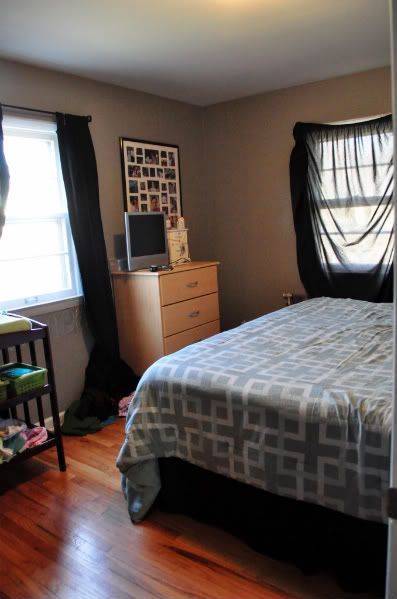 Like I said, it's normally not this bad.  Picture a black duvet with matching flowers.  Actually, I'll do you one better.  
Here
it is.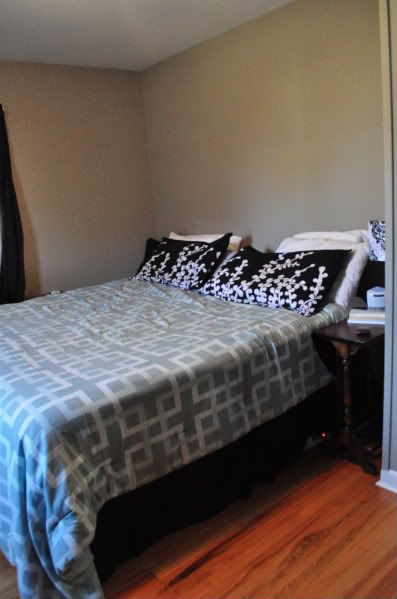 Oh, and we don't have bedside tables.  We did, but our room is too small to fit them in, so we have this antique table from Tim's grandmother on my side: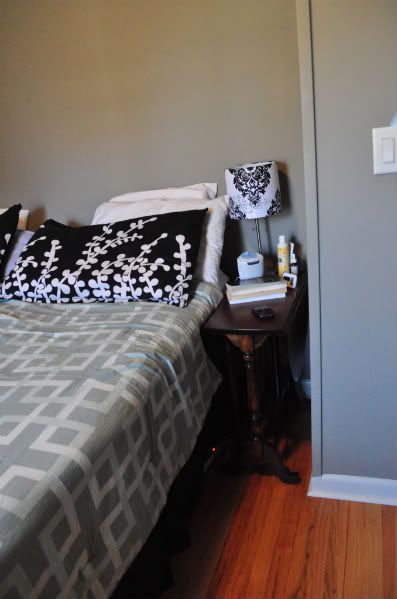 And, ahem, a Rubbermaid container on poor Tim's side.  If you could see me right now, I'm blushing.  And yes, we clearly have a baby with a cold on our hands.
Oh, and then here's my current "sewing area."  This is exactly why I'm not sewing right now.
And maybe you can get a good feel of how small our space is with this picture.  And funny sidenote: I was looking forward to not being pregnant anymore so that I didn't have to lug around a baby with me every second of every day.  But as this picture proves, turns out I'm still lugging around a baby with me every second of every day.  This is the only way I can get anything done with this fusspot.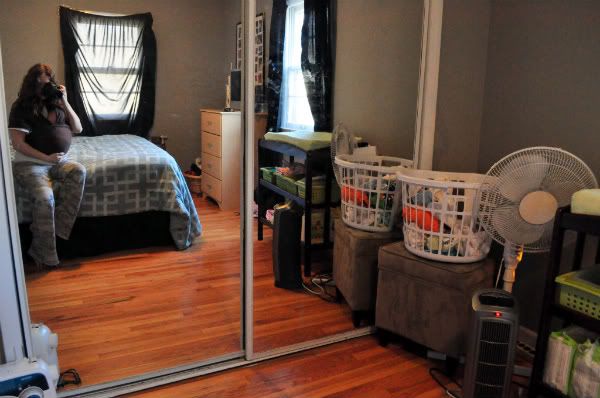 So there you have it.  Isn't it lovely (cue Stevie Wonder)?  I have tons of ideas brewing in my head that I'll share with each reno stage.  Because this project will have many reno stages over many months.