Our Thanksgiving was turkey-filled and fun! This was the first Thanksgiving in a long time that I've been able to spend with my mom, so that was a big bonus. She came to town and helped me whip up the traditional Thanksgiving feast. Then she taught me to sew! SCORE! Hopefully I'll have those curtains done soon.
My mom came bearing LOTS of old childhood toys to hand down to Ben which, let me just say, is one of the coolest things I've experienced in a long time. Digging through all the Little People, banging out some tunes on my old keyboard, pretending to eat fake pizza, all the things I loved as a child MY child loves, too. I had no clue my mom had saved most of this stuff, so that made it double cool. She even brought my going home outfit which Tim thinks we should put baby girl in. I have my reservations seeing that it'll be January and FREEZING and it's a little short-sleeved dress. But we'll see. :)
My Grandad joined us for Thanksgiving dinner which was a fun treat. This is only the second Thanksgiving that I've hosted, but I must say I really enjoy it! Even though it's a lot of work, it's super rewarding to be the hostess. Do I see dinner parties in my future? Perhaps.
Grandma and Ben with his new (old) little triangle.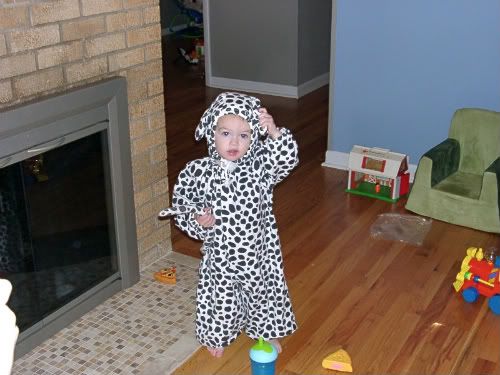 My old Halloween costume my mom sewed.
Great-Grandad, lil Jo-Jo and Benji, sporting a major cheese.
This might be the most unflattering picture of me ever taken, but it's for all of you who comment here saying I'm so small. Ha! There were about 15 pictures just like this that surfaced over the weekend. Yikes!
And finally, baby girl doing a little jig in the belly. Finally caught on tape! Ah, and mom's hand thrown in for good measure.