I mean really, it's unbearable. Heat indexes in the 109s+ scare me. And that's what we've been dealing with. AND I'M PREGNANT. I went to visit an old college roomie over the weekend in Oklahoma. I didn't think it could get any hotter than it's been in Kansas, but apparently it can. We skipped out on the baseball game we'd planned in lieu of putting on jammies, popping open some sparkling grape juice (she's preggo, too!) and watching chick flicks. I must say, it was an awesome weekend.
For those who asked, here's the newest belly picture. I had such great ambitions for doing a weekly picture in the same spot in the same outfit but, well, it hasn't happened. Maybe this week will be the week? Ha, unlikely. 14 weeks and counting! Did I ever mention we're staying on team green? Well we are. And now it's KILLING ME. I keep thinking how we found out with Ben at 15 weeks and that's only one week away! I could know in one week! Oh, the torture.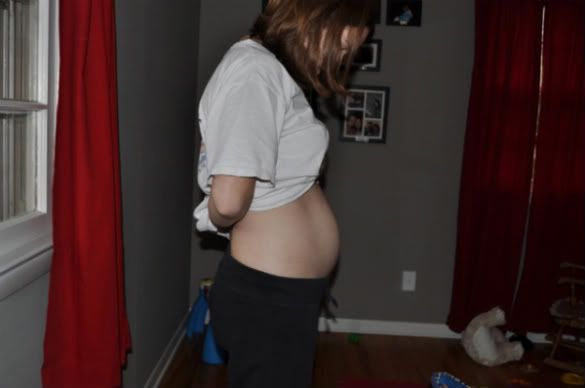 I think I've shrunk since 12 weeks?
In other news, I'm apparently fantastic at making manly men. Exhibit A (and this was NOT staged, believe it or not):
Do you think I could be as good at making girly girls? We shall see. Sometime in...oh, January. :(
I almost forgot! We got to see the bean in the belly last week! I'll spare you all the details of our TERRIBLE appointment with the most unprofessional ultrasound tech I've ever dealt with in favor of the mushy stuff. The baby picture! S/He still looks pretty ghost-ish, but cute, right? ;)