We made a mad dash to finish the nursery after being told that baby girl will be here any day, and I'm happy to say it's almost done!  And it's definitely done enough for her to come, and now that I'm officially 37 weeks and full term, she's allowed to come when she so chooses.  Judging from the massive size of my belly, I'm thinking she's good and big and ready now.
So...I suppose it's sharing time, eh?
Here she is from the door!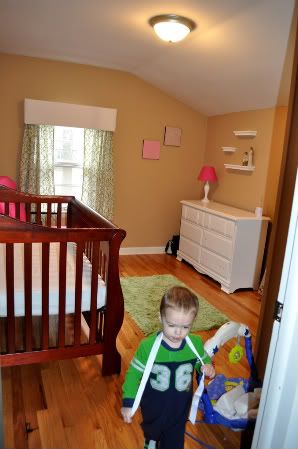 I wanted to go with a fun rug, but in an effort to be frugal, we just used what we had on hand from Ben's old nursery.  Honestly, I think it works really well and I ended up being totally happy with it.  Plus, we saved some moolah!
And the other view: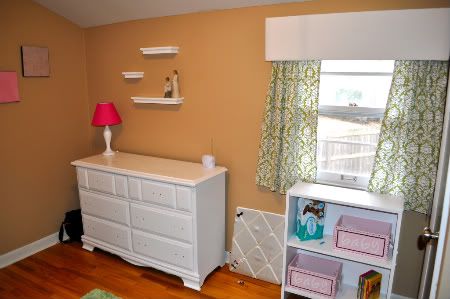 Pardon all the incomplete tasks and try to use your imagination.  Her wall shelves need to be filled (ideas?),  the refinished dresser needs new hardware, and that little message board making her floor all cluttered will be getting repurposed into a bow holder sometime soon.
Then there's her crib and glider.  I had new (hot pink!) cushions made for her glider that I am in love with!  Several people recommended baby pink instead of hot pink and I wondered if I was going to regret the bold hot pink, but I totally don't.  Hot pink is just my thing, so I'm happy I braved up and went bold.  I tried a hot pink crib sheet but I couldn't find one to match the glider at all, so I scrapped the idea and just went with a white sheet and hot pink blanket to tie it in somehow.  I'm also in the process of making her a mobile.  It's about half done, so maybe it'll be finished before she gets here.  Maybe not.  And some day I'll get around to making her crib skirt and pillow for the glider out of the curtain fabric.  Someday...
We had some family pictures taken by an awesome photographer friend a few months ago, and we had this one blown up into an 18x24 picture and I mod podged it onto an old canvas from Ben's room to hang above her crib.  I LOVE it because it's personalized, not just some ole nursery art we picked up off etsy or something.
And because it's fun and I love it, here's another shot of the glider.  Eeeeee!  And it's so much comfier than the old cushions!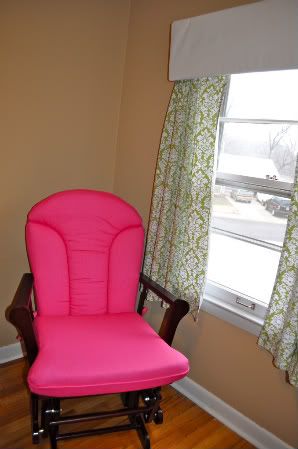 We have a tiny closet to work with, so I did my best at cramming everything in there without it looking too crazy, but it's not exactly pretty.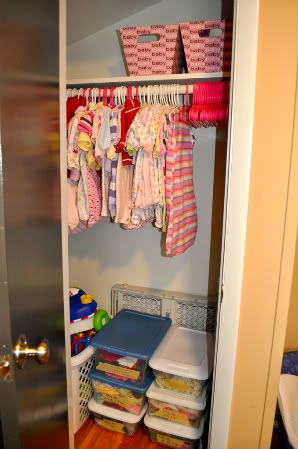 So...there's still some work to be done but it's at least ready for a baby and I'm so happy with how it all turned out!  Success!  And we didn't really spend that much, which I'm super proud of.  I made the curtains (and got the fabric dirt cheap on ebay!), we rigged up the cornices on the cheap (like, REALLY cheap...I'm almost embarrassed to say how it's all put together but here are a few words: duct tape, staple gun, foam board), the crib, glider, bookshelf and rug are all Ben's old things and the dresser was a $30 craigslist score!  With some elbow grease and paint, it looks brand new!  Even all the clothes in her closet were practically free thanks to some amazing friends.  The new cushions were a bit pricey, but that came out of my Christmas money so I kind of don't even factor it into the cost of the nursery.  
Look at the size of that stomach!  I'd say she's GOTTA be ready, right?  I mean, that is one huge baby!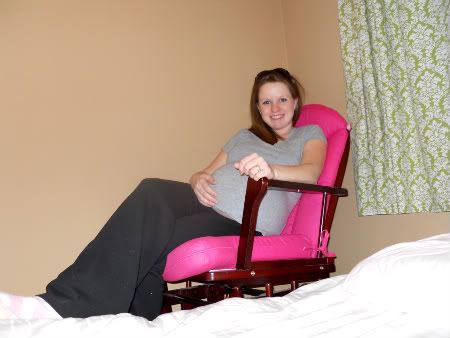 This was kinda fun to see the transformation in process: